Workbooks
Each DVD set has a companion workbook that includes a study for each book of the Bible in that set. Each book's study includes an outline of the teaching, maps and charts, questions for group discussion or personal meditation, and five daily lessons.
The daily lessons can be done in two ways:
1. Quick Read is for busy individuals with only twenty minutes a day
2. Complete Read is for the student with more time for study
All workbooks are organized in the exact same format, for ease of use for both the leader & student.
View an excerpt from the Pentateuch workbook to see the layout & content of the Genesis study.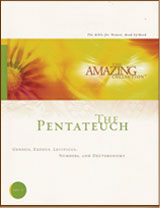 Teaching Clips
View teaching excerpts below from our foundational teachers:
Testimonials
Real Women, Real Stories, Real Life-Change.
Watch this clip from one of the outstanding testimonies that are included to enhance life application during your study of The Amazing Collection. This is an excerpt from the Old Testament study on the Book of Zechariah.
Music
Click below to sample some of the music variety included in The Amazing Collection – An Amazing God desires our praise!