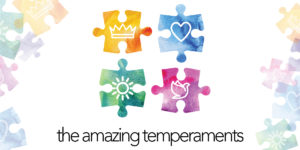 Have fun getting to know your group with The Amazing Temperaments, a short but in-depth topical study on the four different personality types illustrated from Scripture's point of view. Use the worksheets and charts included in the book to discover your personality type or for a group activity.
This fascinating six-week study is ideal for an introductory study to newly formed small groups, couples, newlyweds, parents, and anyone who desires greater understanding of the people God has placed in their life.
Preview The Amazing Temperaments.
Workbook sold on Amazon.