07 May

Open My Eyes that I May See!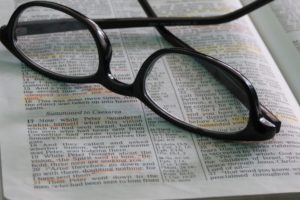 Libby came into class beyond excited! Now she could see! She could see what her husband was talking about. She could see what her friends were talking about. She grew up attending church and heard all the Sunday school stories about Jesus, but she could not see what the consuming passion for Him was about. In fact, Libby was pretty annoyed with Joseph's new found love for Jesus. Joe had been challenged to read through the gospel of John with a co-worker who practically dared him to stick with it until the end. Libby didn't hear her husband talk much about his time reading the Bible, but she definitely noticed some changes in him. He was a bit more patient with their boys; he was a bit more helpful around the house, and he was a bit less sarcastic – and she was not complaining! However, Libby was dumbfounded when Joe returned home early from work one day and announced that he was born again. She just couldn't see what he was talking about.
At Joe's urging Libby reluctantly joined the women's Bible study at a local church. They were teaching The Amazing Life of Jesus Christ so she thought she would start there. Now, 9 weeks after she reluctantly started the Bible study, she could see Jesus for who He is and the sacrifice He made on her behalf. She was no longer confused; her eyes had been opened so that she could see the truth of Jesus.
Jesus' Disciples Couldn't See
Following Jesus' resurrection, His followers couldn't see the truth about Him either. Cleopas and his friend had been in Jerusalem for Passover when the city was reeling with the news about Jesus' crucifixion. These men were His disciples; they had known His teaching and they believed and desired Him to be the long-awaited Messiah. The problem was that they only saw what they wanted to see about Jesus. He said He was coming back after three days, yet instead of anticipating His arrival and waiting in Jerusalem, these two disciples were heading home to Emmaus. When Jesus joined them on the road, they didn't recognize Him (Luke 24:13-16).
Jesus, always a teacher, questioned the travelers about their conversation, drawing out all that they knew about Him and the events that had taken place. They relayed the facts accurately, even the women's report of Jesus' body being missing. Yet, the two still could not see Jesus right in front of their eyes (Luke 24:17-24). When they had finished their account of the events surrounding the weekend, Jesus spoke to them.
       "O foolish men and slow of heart to believe in all that the prophets have spoken! Was it not necessary for the Christ to enter into His glory?"    ~Luke 24:25-26
Jesus Uses Scripture to Open Their Eyes
Then Jesus reviewed all the Scriptures written by Moses and the prophets – highlighting how they pointed forward to Him. What a Bible study!  Even with the detailed exposition of the Scriptures, Cleopas and his friend still could not see Jesus. It was not until later in the evening when Jesus broke bread with them, that they were able to receive not only the bread, but their spiritual sight – they could see Jesus and couldn't wait to share the news. Once the men moved beyond knowing only the facts about Jesus, to receiving Him, they were able to see.
Bible study teachers have the privilege of walking students through the Scriptures, pointing to Christ along the way. The Bible is more than a historical narrative of what has occurred; it contains the very words we need to know about Jesus.  When we teach the Bible with the purpose of knowing the Lord better, every book, every chapter, and every word will point to Christ. As we see Christ portrayed, His heart is revealed over and over again – and the Holy Spirit will affect a person's heart and open their eyes.
Bible Studies Are a Lens to See Jesus
Everyone attending Bible study needs to see Jesus in a fresh and comforting way. Students attend studies for different reasons. Some are committed to learning more about Christ. Others come to satisfy their need for companionship or curiosity. We have heard countless testimonies from people taking The Amazing Collection: The Bible, Book by Book or The Amazing Life of Jesus Christ that the truth of Scripture and Christ is revealed to them as never before.
Let us never to be so accustomed to Scripture that we only learn the facts, but rather approach each and every study with the prayer, "Open my eyes that I may see!"